We are sad to report that Charles was in an ATV accident on October 22, 2023 and was paralyzed from the chest down. The Kirk Report will be on hiatus as he recovers from his injuries and adjusts to the challenges of his new life. For updates on his
progress, click here
. To send
support, click here
. Charles appreciates the kindness and patience of his members and looks forward to continuing his work as soon as he is able.
About Kirk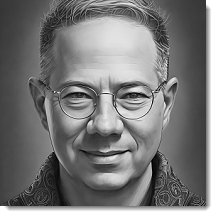 Charles E. Kirk is a highly-respected American investor, trader, and founder of The Kirk Report, an online community providing comprehensive market analysis, trading insights, and investment education to its members. With over 30 years of experience in actively trading and investing, Mr. Kirk has established himself as a recognized expert in technical analysis, trading psychology, and risk management.
Mr. Kirk's expertise has been widely recognized by numerous media outlets such as CNBC, Bloomberg, Barron's, and The Wall Street Journal. Most recently, he was interviewed by Technical Analysis of Stocks In Commodities in March 2023.
Before earning his law degree in 1999, Mr. Kirk worked as a private investigator while actively trading and investing independently his own money since 1990. In 2003, he founded The Kirk Report, which has gained a loyal following for its unbiased and high-quality market analysis and insights over the past 20 years. Mr. Kirk is regarded as one of the pioneers of financial blogging in the early 1990s.
Apart from his professional pursuits, Mr. Kirk is actively involved in charitable and philanthropic endeavors. In his free time, he enjoys playing competitive pickleball and golf, as well as hiking, and riding his ATV in the Cascade mountains surrounding his current home in Bend, Oregon. With a passion for travel and after growing up in Columbus, Ohio, he has lived in numerous locations throughout his life, including the island of Kauai, Arizona and Utah.
With his disciplined and successful approach to active trading and investing, Mr. Kirk has become a trusted and sought-after authority in the financial industry. His commitment to delivering exceptional value to his members has earned him a well-deserved reputation as one of the most influential voices in the world of trading and active investing.
About The Kirk Report

At The Kirk Report, we're committed to helping our members make informed investment decisions. Every weekend, Mr. Kirk provides a comprehensive research report that includes detailed analysis of the latest price action, market movements, quantitative research, and perspectives to help members prepare for the week ahead.
In addition, the weekly report includes a playbook with up to three investment ideas and a risk management plan, giving our members further options to evaluate. Our aim is to make the report helpful to a diverse range of investors, regardless of their investment approaches, strategies, risk tolerance, or time horizons. Our members include a wide range of people from do-it-yourself individual investors to professional money managers.
Although we've reached full membership capacity, we're still accepting names to our wait list for those who are interested in joining in the future. If you'd like to be added to the wait list, please contact us and we will be sure to get in touch as soon as an opening becomes available.
Thank you for your interest in The Kirk Report!